Speaker Nancy Pelosi Vows To Continue Investigating President Trump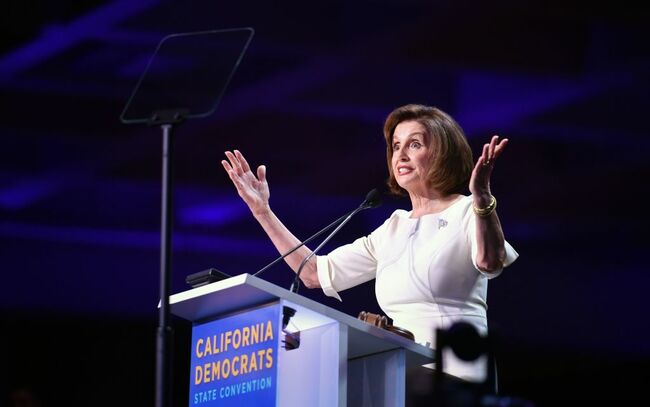 House Speaker Nancy Pelosi (D-CA) was met with 'Impeach' chants at the California Democratic Party's annual convention in San Francisco Saturday. Pelosi told the crowd that Democrats will continue investigating the President and that she doesn't plan on backing down.
"President Trump will be held accountable for his actions," Pelosi said. "In the Congress, in the courts, and in the court of public opinion."
Pelosi was speaking about what special counsel Robert Mueller's report said about President Trump when shouts of 'impeach' began ringing out from the crowd. However, Pelosi has been reluctant to begin impeachment proceedings without what she says is sufficient support.
"This isn't about politics, it isn't about partisanship, Democrats versus Republicans, no," Pelosi said. "It's about patriotism, it's about the sanctity of the Constitution and it's about the future of our nation. We will go where the facts lead us. We will insist on the truth. We will build an ironclad case to act."
Pelosi stressed that lawmakers will continue to hold Trump and his administration accountable "with the power of the gavel."
Pelosi said an ironclad case will be built against the President in order to defend our democracy. She noted that, "investigations are breaking through the Trump administration's cover-up to get the truth."
"We will strive as we go forward in this important constitutional action to unify our country, not divide it, as we protect and defend it," said Pelosi.
Her comments come as dozens of Democrats have been calling for an impeachment inquiry into President Trump following a statement by special counsel Robert Mueller last week. The report did not find sufficient evidence that there was a conspiracy between the Trump campaign and Russia, but the report did not reach a conclusion on whether Trump obstructed justice. Mueller said last week that if his team had "confidence the president clearly did not commit a crime, we would have said that."
"We will build on an ironclad case to act," said Pelosi. "Because in the United States of America, no one is above the law."
Photo: Getty Images