President Donald Trump Arrives In England For State Visit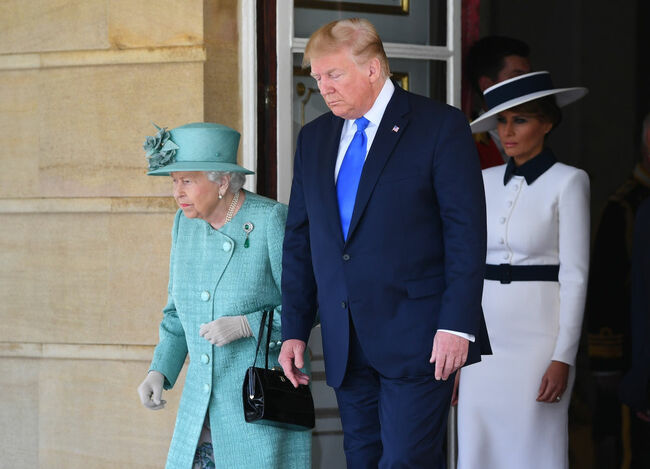 President Donald Trump arrived in London Monday for a three-day state visit timed to coincide with the 75th anniversary of D-Day, marking his time to meet with Queen Elizabeth II.
Trump arrived at Buckingham Palace by helicopter after traveling from the Ambassador's residence three miles away. The helicopter carrying the president landed on palace grounds where he and the first lady were greeted by Prince Charles and his wife Camilla, Duchess of Cornwall. They were escorted to the queen, who received them at the west terrace. The president and his wife went inside with the three royals for a private lunch.
When they emerged, the Trumps took in a performance of 'The Star Spangled Banner' as they held their hands over their hearts. Then, it was on to inspect the Queen's Guard of Honor, which as been charged with protecting the official royal residences since the 17th century. The president could be seen stopping to chat with several of the soldiers at length during the inspection with Prince Charles.
Later, Trump and Melania toured Westminster Abbey where they laid a wreath at the Grave of the Unknown Warrior and toured the World Heritage Site.
Tonight, the Trumps will attend a state banquet in Buckingham Palace where a lavish dinner will be laid out on a table that took royal staff three days to set. About 170 guests are expected to attend the dinner, including Queen Elizabeth, CNN reports.
However, Trump's visit is not without controversy. Before he landed in the U.K, Trump took aim at London mayor Sadiq Khan, calling him a 'stone-cold loser' and compared him to New York City Mayor Bill de Blasio.
"@SadiqKhan, who by all accounts has done a terrible job as Mayor of London, has been foolishly "nasty" to the visiting President of the United States, by far the most important ally of the United Kingdom. He is a stone cold loser who should focus on crime in London, not me. Kahn reminds me very much of our very dumb and incompetent Mayor of NYC, de Blasio, who has also done a terrible job - only half his height. In any event, I look forward to being a great friend to the United Kingdom, and am looking very much forward to my visit. Landing now!"
Trump's ire at Khan stems from an op-ed written by London's mayor, in which he objected to "rolling out the red carpet" for the president's state visit.
Protesters upset by President Trump's state visit to the UK have timed a rally for Trump's meeting at No. 10 Downing Street on Tuesday. Activists plan to "follow" Trump wherever he goes in the city. During Trump's visit to the UK last year, mass protests took place across the UK. A recent poll from the research firm YouGov and Queen Mary showed that more than half of Londoners are opposed to Trump's state visit - however, 46% to 40% of people across the country think the visit should go ahead.
Photo: Getty Images