Florida Family Finds Unwelcome 11-Foot Alligator In Their Kitchen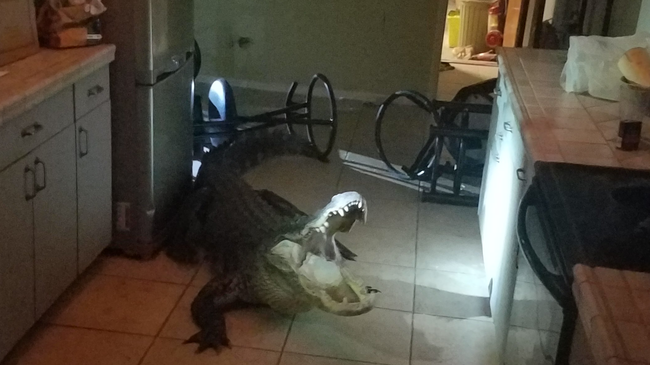 A family in Florida found themselves dealing with an unwelcome visitor Friday morning after a massive 11-foot alligator broke into their home overnight.
Officials from the city of Clearwater tweeted several photos of the "unwanted overnight visitor" to the home on Eagles Landing in Clearwater. The alligator managed to get into the family's kitchen after it entered a window. The alligator then hung out in the family's kitchen, destroying a table and even helped himself to some of the family's wine.
The homeowner told Fox 13 that she discovered the gator hanging out after hearing noises in her kitchen around 3 a.m. The gator also did some damage to the walls in the home, the homeowner said.
Officers with the Clearwater Police Department responded and called out a trapper to help them trap the reptile. Fortunately, the unwelcome 11-foot alligator was quickly captured and removed with no injuries reported. The city posted photos of the close encounter to Twitter, with one particularly nice shot of the gator's powerful jaws wide open, snapping at police.
"An unwanted overnight visitor was removed from a home on Eagles Landing in #Clearwater. The 11-foot-long gator broke into the home through some low windows in the kitchen. @myclearwaterPD and a trapper responded to the scene. The gator was captured and there were no injuries," the city wrote on Twitter.
Photo: City of Clearwater

Bill Cunningham
Hear Bill Cunningham weekdays and Sunday nights!
Read more