New Royal Biography Details Meghan Markle's 'Extravagant' Spending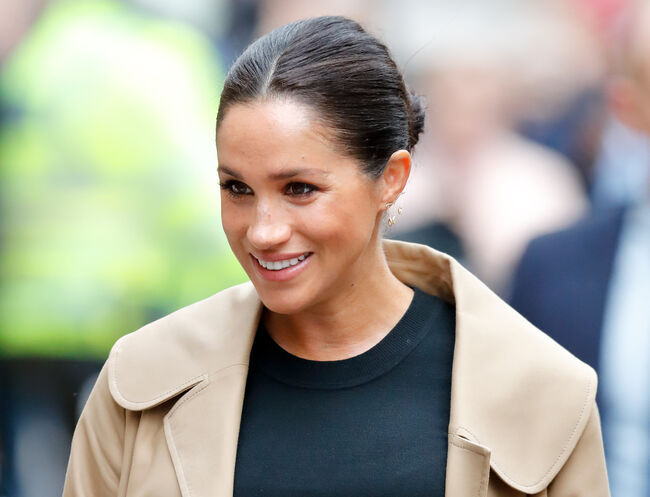 Before Meghan Markle married Prince Harry back in May 2018, she was working as a successful actress on the legal drama Suits. The Duchess of Sussex reportedly accumulated a net worth of about $4.8 million over the course of her acting career. Now that she's a member of the royal family, her spending is watched closely by reporters. A new biography about her husband, titled Harry: Conversations with the Prince, reveals Meghan's "extravagant" spending in her first year as a royal.
According to royal biographer Angela Levin, Meghan's lifestyle has occasionally clashed with other members of the British Royal Family. In a new interview promoting her book, Levin explains that Meghan, who worked hard for her individual fortune for many years, has a different approach to spending than her in-laws. Here's Levin's full quote:
I think Meghan on occasion has been extravagant, which has not gone down well. The Queen is known to be frugal and some members of the British public have balked at a proportion of their tax going towards what they consider to be frivolity. For example, the dress she chose to be photographed in to mark her engagement to Prince Harry is believed to have cost £56,000 ($71,000). More significant was her baby shower in New York which was estimated to cost more than £300,000, an excessive amount whoever offered to pay for it, especially for someone who calls herself a humanitarian. It is, so I have been told, one of many reasons why all Harry and Meghan's staff and offices are in the process of moving to Buckingham Palace, where even their newly hired PR director, Sara Latham will be expected to report to the Queen's Communications Secretary.
Despite these differences, though, Levin's conversations with Prince Harry revealed how perfectly suited the Duke and Duchess of Sussex are for each other. One of the reasons Meghan is such a good match Harry, Levin explains, is Meghan's background as an actress. "Unlike Harry's previous long-term girlfriends, the actress in Meghan has enabled her to cope with the media spotlight, and she seems to enjoy it," she said. "She also has a maternal streak which she overtly shows even on royal engagements, something Harry no doubt needs. She has made him 'over the moon' by giving birth to baby Archie and fulfilled his very long yearning to be a father."
In addition to Meghan's ability to handle the spotlight, she also shares her husband's passionate interest in humanitarianism. "She has been a keen philanthropist since her school days – she used to take toys and clothes to a school where many of the pupils were poor. She has also, among other things, been involved with the international charity One Young World, travelled to Rwanda for the Clean Water Campaign and worked as an advocate for the United Nations on gender equality," Levin said. "All of which took place before she met Prince Harry. Humanitarianism is a powerful interest they both share. Many British people adore Meghan and see her as a breath of fresh air and modernizing influence, which they feel the Royal Family sorely needs"
Since marrying Meghan, Prince Harry is "enjoying being a member of the Royal Family much more now." Before meeting his wife, the Duke told Levin "he longed to have someone by his side when he was on royal engagements." Though Meghan appears to be a positive influence in Harry's life, there is reportedly still hope she will become "less showbusiness and more royal" over the years.
Photo: Getty

Bill Cunningham
Hear Bill Cunningham weekdays and Sunday nights!
Read more