Video: Priest in Oregon Says Exorcisms Are 'Getting Darker'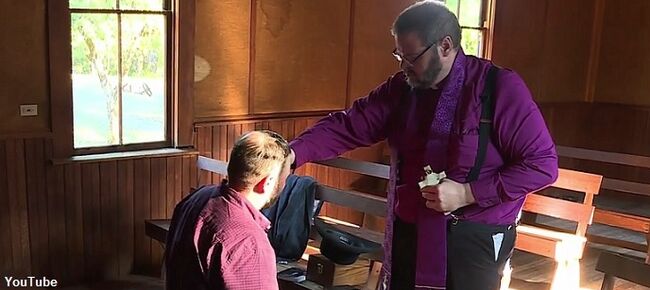 A priest in Oregon who has performed hundreds of exorcisms says that the incidents are "getting darker." The unsettling observation was made by Archibishop James Cloud during an enlightening profile piece from a local television station. Revealing that the tasks of helping those who are believed to be possessed "was pretty much thrust on me because I've had the sight since I was four," the somewhat colorful cigar-smoking exorcist mused that "if I hadn't seen half the stuff I've seen in life, I wouldn't believe it, either. Until it actually happens."
Remarkably, the TV segment features Cloud performing an exorcism on a man named Brent Goodrich, who claims that he has been tormented by demons for the past two years. "They're there constantly, constantly making noise," he chillingly explained beforehand, "the ones around me just hiss and hiss at me." Goodrich subsequently sat down at a pew in an abandoned church as Cloud proceeded to attempt to drive the demons out of his by reciting the exorcism rites. Eerily, at one point, Goodrich notes that he can feel the sinister spirits jumping from one side of his head to the other and attempting to "get back in" to his mind.
Check out the eerie footage of the exorcism at the Coast to Coast AM website.

Coast to Coast AM with George Noory
Want to know more about Coast to Coast AM? Get his official bio, social pages & articles on iHeartRadio!
Read more